WHAT PEOPLE ARE SAYING ABOUT THE JET BOAT
Whale watching Jet Boat tour
What an incredible experience! Super comfortable seats (shock absorbing), P.F.D suits were definitely awesome to have on once we were out (everyone complains at first that they are bulky and hot, but trust me you will be grateful for them) Capitan Rob and his helper were knowledgeable and great! Hot chocolate and cookies were a pleasant surprise….and we stayed out 1/2 hour extra because the whales were so plentiful! Thank you for an amazing experience! 🙂 We will be back!
– Mandrelea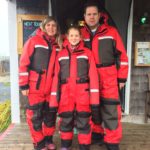 Englishman takes the Jet Boat on Labor Day
Wow, What an experience. It was worth the money just for the boat ride. Not to mention seeing the whales and porpoises working together to work on the herring ball. The Captain gave great information throughout. Thanks Again for this adventure.
– Adbardsley
Beautiful Day, Wonderful trip, Amazing Staff
I went out on the Jet boat late august with a group of girls and I must say I was a bit hesitant because the size of the boat. I have been out on the catamarans before and I must say this experience was by far my favorite. The staff was incredibly knowledgeable, welcoming and approachable. They made the entire experience a blast and were clearly passionate about what they do. If you have never been watching in this part of the world it is a whole next level experience. Not only is the trip out of the bay absolutely beautiful and you will likely see so many different types of wild life! I must admit that the whales this past August were absolutely phenomenal! Breaching, playing in the water. It was an absolute amazing feat of nature. I highly recommend the jet boat to get out and have a great day, afternoon or evening!
– Kate N
A Whale of a Time
Jolly Breeze Whale Adventures did not disappoint! We took the zodiac tour and were blown away by the plethora of whales we saw. Right off the bat we saw Porpoises, Minke whales, fin back whales, and humpbacks flashing their tales. We were also incredibly lucky to see a Northern Right Whale breaching in the distance, which was a one in a million chance as they are highly endangered. Extremely pleased with the knowledge, and kindness of the staff. If you not only like whales, but also enjoy cookies and hot chocolate… this is the right tour for you! Thank you again Jolly Breeze for making our time in St. Andrews so magical.
– Kristabohlen
Amazing time at sea!
We had a great time in the Bay of Fundy with Jolly Breeze on the zodiac. We booked it only because the tall ship was sold out but it turned out to be better than I expected. It was humbling being closer to the water with whales not too far from us. Randy our captain was great. Lots of humpback whales, porpoises, and a few seals. Whole family enjoyed it lots. Would highly recommend!
– Rasharoo
Zodiac Whale watching
My family had a great time. Such a great experiencing seeing lots of humpback whales, porpoise and seals. The crew and owner were knowledgeable and friendly. (And the homemade cookies were such a treat too!)
– Georgia T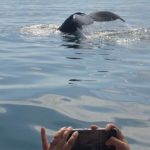 Jet Boat is a MUST!!
Had the great pleasure of enjoying a Jet Boat Cruise with Captain Randy at Jolly Breeze yesterday afternoon for a whale watching adventure. The whole set up at Jolly Breeze is amazing. The check in bunky is super cute and welcoming and the young ladies who were at the counter were really helpful and courteous. Trying on the squeaky clean " survival suits " was a breeze…. again in a super clean little building and the care taken of the product was evident. But the highlight was the Jet Boat – it was spotless , and my kids and I loved the shock absorbing seats!! The ride ( 2.5 hrs on Average ) was incredibly smooth. I was anxious about the mobility and bumpiness but there was literally almost none. It was a calm day but I think too we had a very capable Captain in the funny and knowledgeable Randy. After he navigated the waters and chatted with some other boats we found Minke Whales, numerous Porpoise and Seals. The agility of the Jet Boat made back tracking super easy if needed and the handles and seats made me feel incredibly safe. I have been in the East from Ontario for a week and have done and seen many incredible things; but the Jet Boat at Jolly Breeze… was the highlight for sure. Even if we had not seen a thing, it would have been worth it!!! PS – Capt Randy also served us all Hot Chocolate and cookies mid ride 🙂 This trip is Highly recommended!!!!!
– Sue H
Whale watching and so much more
My family reluctantly followed me whale watching. They were skeptical of all the protective gear we had to wear and the layers of fog that had settled over the Bay of Fundy. We chose the jet boat over the Tall ship. We all had a fabulous time. Randy our guide was funny and experienced and made the trip that much more memorable.
– Colleen A
Einfach nur "WOW"
Wir fuhren mit 2 Erwachsenen und 1 Kind die Zodiac Whale Watching Tour im August. Die Tour war super erfolgreich, wir sahen die Tiere hautnah, gut 1 m von uns entfernt tauchte ein Wal auf und schwamm unter dem Zodiac durch, ein Gänsehaut Moment. Die Tour war perfekt organisiert, die Anzüge speziell für die Zodiac Tour waren zunächst extrem warm, wir waren dann aber aufgrund des Fahrtwindes sehr dankbar dafür. Die kleine Gruppengröße im Boot war für uns genau das Richtige. Alle Mitarbeiter waren super nett und wirkten hochkompetent. Wir fühlten uns rundum sicher und gut betreut. Der Umgang mit der Natur und den Tieren erschien uns gut. Vielen Dank für einen wunderbaren Ausflug.
– Sunny H
Zodiac boat for whale watching
Captain Randy at the helm. You wear a survival suit which in the heat of the office putting it on – you think it will be unbearably warm. Fear not – the winds whip up on the water and you will be comfortable even on a bright sunny day. They recommend a long sleeve shirt and pants – I could see how shorts might be a bit uncomfortable. I had short sleeves but was okay. While initially I was concerned just how fast the boat would go (having survived The Beast in NYC harbor which will literally blow your clothing off) it was fine. We saw minke whales – some harbor seals – lots of lobster boats and some sea birds. Fun trip. Also had a great cup of hot chocolate (it won't be too hot to enjoy this) and a fabulous molasses cookie – the likes of which I have never tasted. Had they been for sale I would have taken a dozen for the folks back home. Great trip for young and old. Fortunately I made reservations in the morning before driving to Saint Andrews – only 12 seats on the boat. I would have been out of luck had I waited.
– BD
Great whale watching trip on the Zodiac
We had a great trip on the zodiac and saw around 15 whales, humpbacks, fin and minke. Our captain was knowledgeable and the boat ride was a blast. We were able to get up so close to the whales, it was amazing.
– Greely
Great adventure
Couldn't believe the amount of whales we saw. I am sorry I forgot the gentleman who captained our vessel but he knows his (stuff). Trip was flawless. The entire staff was very friendly and accommodating. I couldn't believe they had a flotation suit that fit me. Jolly breeze is the way to go !!!
– Peter T